Andover Patio Centre
01264 323368
- Building supplies and Garden supplies company in Hampshire
Delivery Services
To enquire about skips, patio paving slabs, fencing, walling, aggregates, sheds, bottled gas, barbeques, patio heaters & other gas appliances, enter your details below & we'll contact you:
Sheds, Summer Houses and Fencing Supplies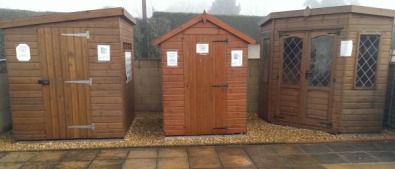 Andover Patio Centre is pleased to offer a good range of fencing products and is an excellent fencing supplier in Hampshire for fence panels, wooden sheds and wooden summer houses. We supply fencing products from manufacturers including Supreme Concrete, Crowthorne and Metpost™. We have a full outside display area showing various wooden sheds, and a selection of fencing and fence products that are always available to buy. Sheds can be made to a wide range of sizes and specifications, please contact us to see how we can help.
We supply the following wooden sheds, fence panels and fencing products:
Timber Garden Buildings range of sheds
Standard Lap Fence Panels in 3 foot high panels
Standard Lap Fence Panels in 4 foot high panels
Standard Lap Fence Panels in 5 foot high panels
Standard Lap Fence Panels in 6 foot high panels
Square wooden garden trellis
Wooden fence posts
Concrete fence posts
Metpost™ Products
Closeboard Panels
European Screen Panels
Trellis
Framed Lattice Trellis
Privacy Lattice
Gravel Boards
Picket Fence
Posts
We can provide a wide range of other fencing, fence products, trellis, wooden sheds and summer houses to order – just give us a call on 01264 323368 or click here to send us your enquiry.
Come and visit us in Andover to view our range of wooden sheds and browse our catalogues for a 'made to measure' wooden shed or summer house to completely meet your needs.
Visit us at Picket Piece, Andover in Hampshire - through Walworth Industrial Estate and next to The Commercial Centre. We have ample free parking where you can collect your fence panels and fencing products with ease.
We also offer a home delivery service for all sheds, summer houses, fence panels and fencing products,so please ask for details.